If you looked at my dating roster before I started dating my husband it's not very long. Two of them I dated for over a year. The guys I dated were not God's best but in my mind I thought that is what I deserved. If you would have told me 10 years ago that I would be married to the man I am today I would have laughed in your face and probably cried. Because of a deep rooted insecurity in my heart. I kept settling for bronze when God longed to give me gold.
(Isaiah 60:17)
A good friend of mine sat me down one day and gave me the greatest gift. She gave me truth. Truth I already knew but truth I honestly didn't believe at least not in my case. "Monica you are redeemed. You are forgiven. Why are you living your life as though you are unredeemed? Why are you holding on to your past sin when He's already let it go" she said tenderly. The tears flowed and years of insecurity spewed... "I am not beautiful, I am not worthy of love, I am a nobody"
"Monica you are forgiven"
"But, I could never have someone..."
She interrupted, " Do you not think that the God of the universe could bring you a man that loves
Him
?"
She was right. God most definitely could bring me a godly man.
I am so grateful for good friends and for that conversation. I still had a hard time swallowing that truth and believing it for myself. God has
forgiven
,
redeemed
, and loves me. I didn't realize it but I was living my life in a way that was not bringing
Him
glory. By dating men that were not God-fearing men I was telling the world that my faith was not in
Him
but in myself. That's a scary thought.
A few years later a guy that loved the Lord and was a friend of mine (he was a just a friend because he was totally out of my league) asked me out on a date....
That friend is now my husband. :)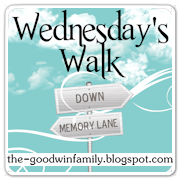 I'm linking this post to Jenilee's Wednesday's Walk blog hop. :)